It is often thought that spaghetti with bolognese sauce originated in Italy and more precisely as a typical dish from Bologna. However, if "ragù" is a sauce made with meat and red wine from Bologna, spaghetti is not the ideal pasta for this sauce because it does not allow the sauce to stick sufficiently. This dish is in fact an adaptation of the recipe for "ragù" from Bologna.
A little touch of culinary history to announce that the new version of TicknCook 2.5 Bolognese allows our KDS to support multikitchen and to adapt to the needs of cloud kitchens facilities and foodcourts. 😉
Improved display of commands
Command channel icon
To make it easier to identify the origin of orders, TicknCook now displays the icon of the origin of orders in the Classic and Condensed views of the Kitchen screen.
Item option
For better readability, the options for each item now appear in blue.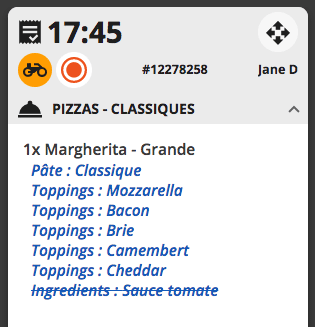 Release of the MultiKitchen pack
We have just developed a set of options that allow TicknCook to perfectly adapt to the needs of dark kitchens hangars. This pack is only available for Deliverect customers.
Runner screen
In a building that brings together cloud kitchens, and where there are many drivers are picking up their orders, it is necessary to have a person who distributes the orders to the drivers, to avoid congestion in the corridors. This person is called a runner.
We offer a special Runner screen, which allows you to track all orders, inspired by our Counter screen.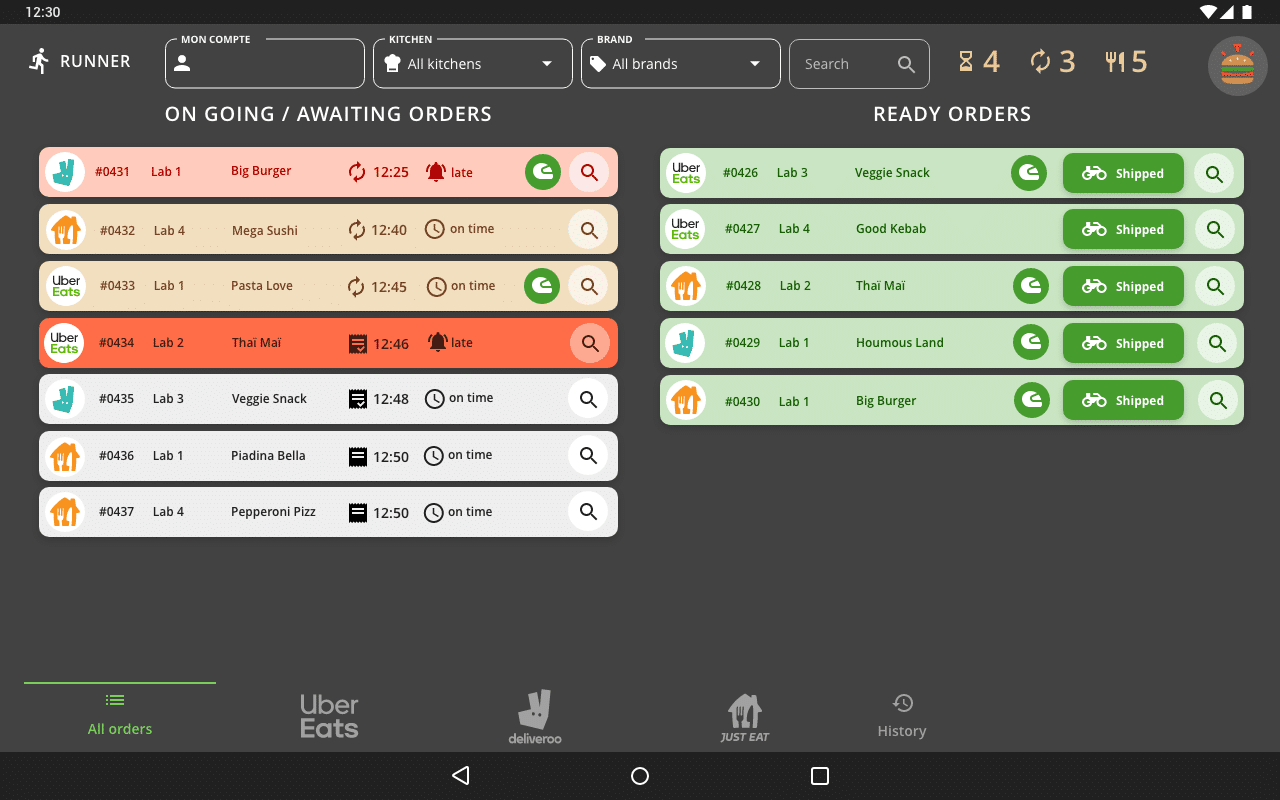 Follow-up screen for orders to be delivered for drivers
We offer a passive order tracking screen to be delivered specially designed for drivers, especially delivery platforms drivers. Ideally, you can place this screen in the waiting room, or visible from outside. It allows the drivers to know whether the order they are picking up is available or not. Thus, they do not need to disturb the runner or the kitchens asking for the status of their order.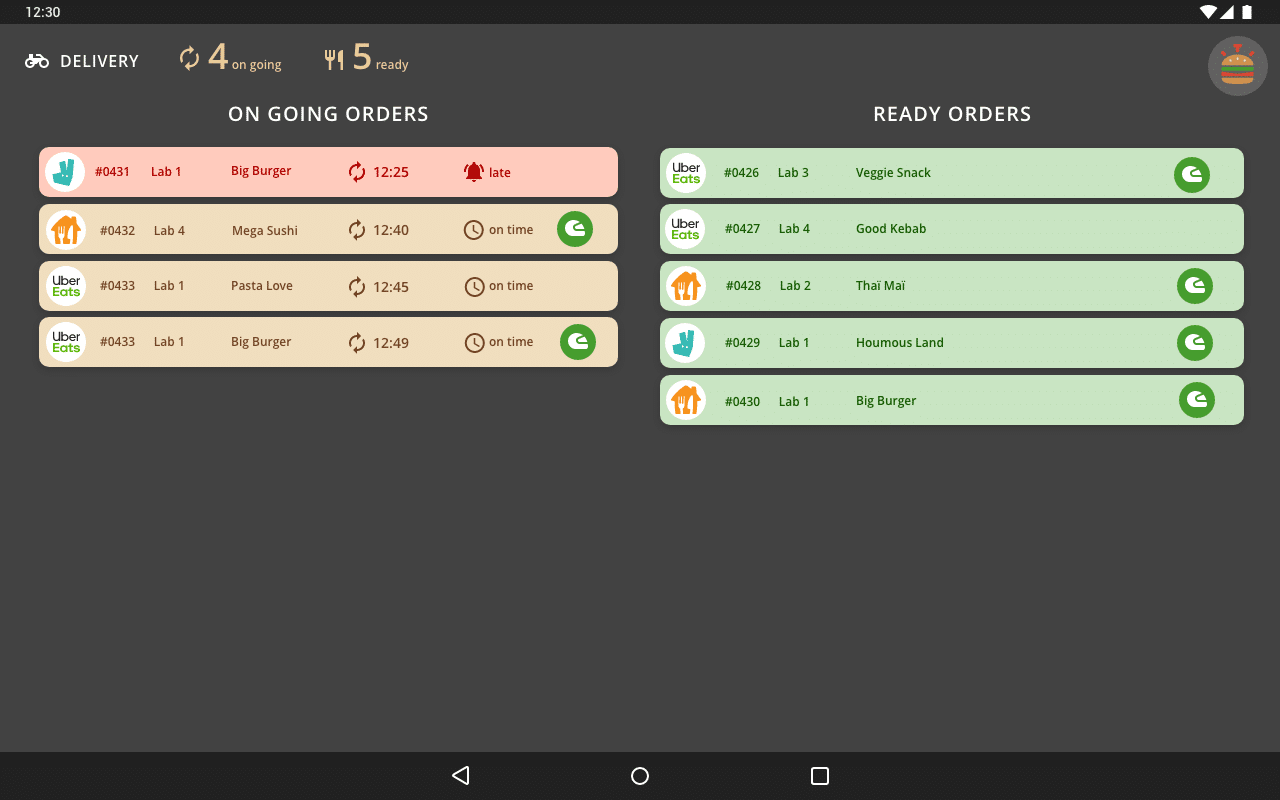 Screen for drivers to report themselves
We offer another special screen for drivers that allows them to signal their arrival, both to the Kitchen, and to the Runner. The driver only needs to type in the order number, and a special icon will appear on the corresponding order on the Kitchen screen and Runner screen. So the cooks can wrap hot dishes and immediately signal the Runner that the order is ready. This creative system is particularly useful in the case of hot dishes, to prevent them from cooling as much as possible while waiting for the delivery guy.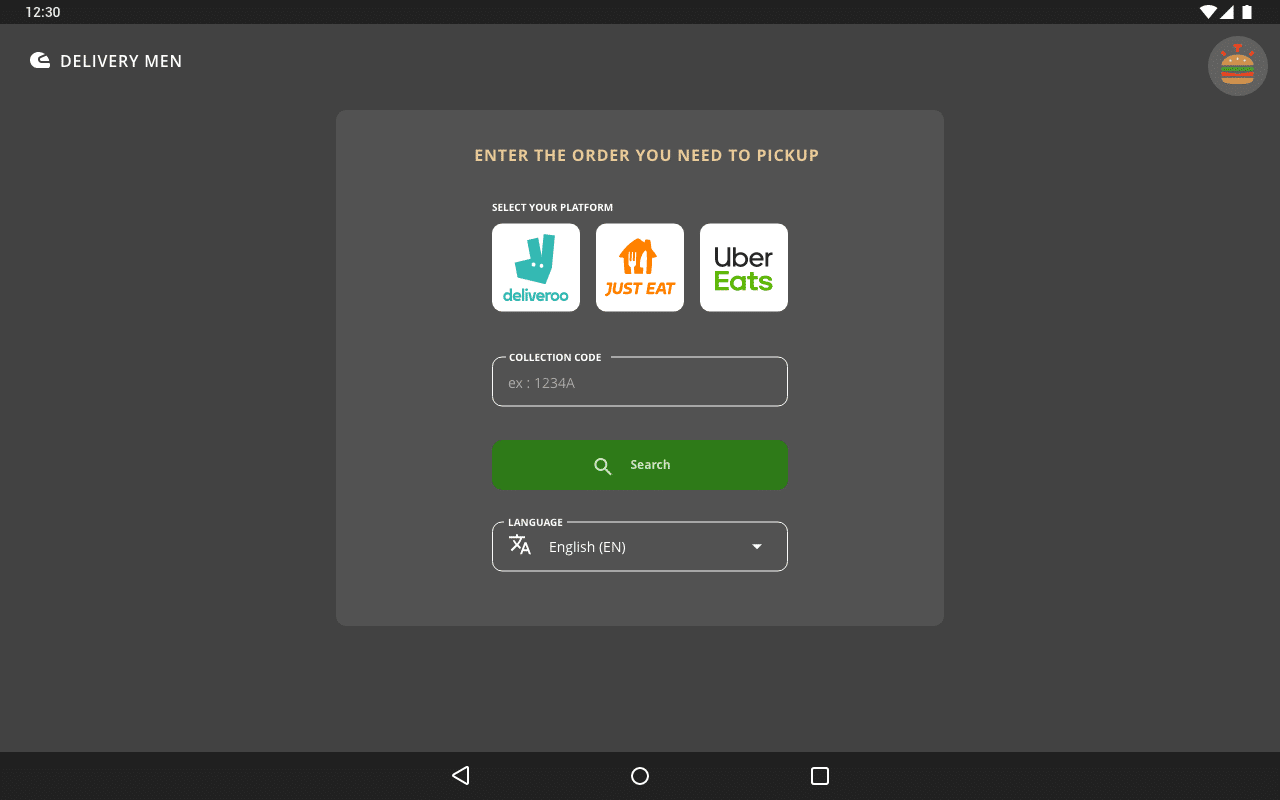 Multibrand management
In this MultiKitchen pack, it is possible to manage several brands in the same kitchen. Cooks benefit from a drop-down field that allows them to select orders by brand.
Order withdrawal with QR code
For QR code ordering services, we offer a QR code pickup option. The customer has a QR code which, once scanned by TicknCook, identifies the corresponding order at a glance, and allows it to be marked as ready with just one click. Useful when you have a very large number of orders!
Book your free demo appointment now!